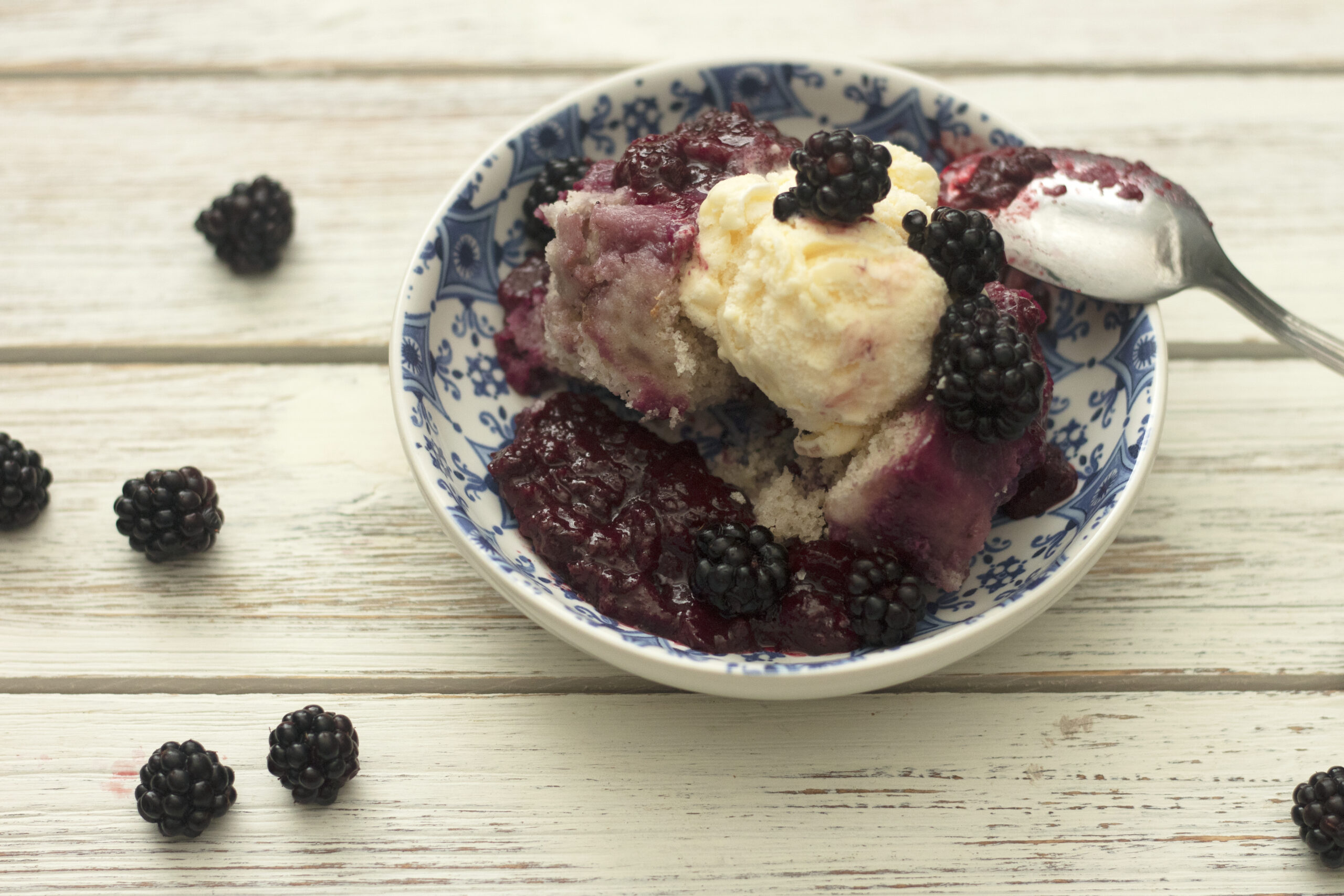 13 Aug

Cloud 9 Blackberry Dumplings

Blackberry Dumplings (we used in-season blackberries that we picked ourselves)

Ingredients you'll need:

For the Berry Sauce
5 cups ripe blackberries (fresh or frozen)
2 cups Water
1 cup Granulated Sugar
For the Dumplings
2 cups Cloud 9 Pancake & Waffle Mix
3 Tbsp Sugar
1 Tbsp Baking Powder
1/4 tsp Cinnamon
1 Cup Milk
2 Tbsp Melted Butter
1 Large Egg
1 tsp Vanilla
Baking Instructions
For the Blackberry Sauce
Combine blackberries, water and sugar in a large pot.
Mix and bring to a boil over medium heat.
Let boil for 1 to 2 minutes and turn off heat.
For the Dumplings
In a medium bowl, whisk together the Pancake & Waffle mix, sugar, baking powder and cinnamon.
In a small bowl or measuring cup, whisk together the milk, butter, egg and vanilla.
Pour the wet mixture into the centre of the dry ingredients.
Mix just until it comes together to form a sticky wet dough. Do not over mix.
Let the dough set for about five minutes while you return the sauce to a boil.
Bring the sauce to a boil then reduce to medium and drop the dough by onto the simmering sauce using a large spoon.
Spoon the dumpling mixture side by side to form an even (single) layer.
Place a lid on the pan and lower heat to medium low. and allow the dumplings to simmer covered for fifteen minutes. Do not lift the lid during the fifteen minutes.
Check the dumplings after fifteen minutes by cutting into one with a fork. They should be fluffy and no longer sticky in the centres.
Remove the sauce pan from the heat. Gently flip each dumpling over to allow the top sides of the dumplings to soak up the juices from the sauce.
Let set for five minutes before serving.
Serve hot with a scoop of vanilla ice cream or whipped cream.
Refrigerate any leftovers which is highly unlikely as these are sooooo good the day they are made.
Makes about ten large dumplings depending on your scoop size.